You said we did... 17/11/2022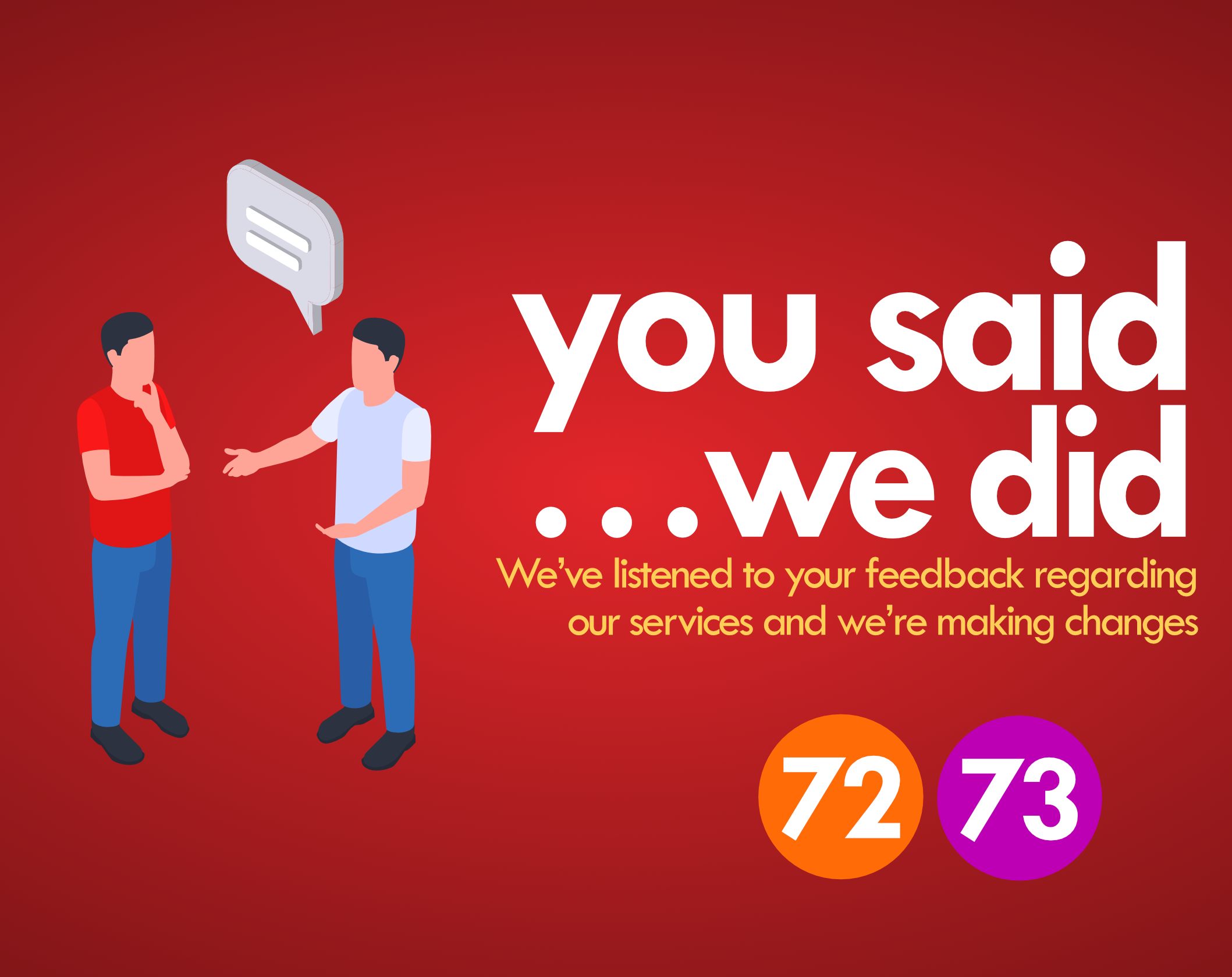 Grant Palmer Ltd took over operation of services 72 and 73 between Bedford, Sandy, Potton and Biggleswade on 31st October 2022 following Stagecoach East's withdrawal from Biggleswade. Following feedback from customers and stakeholders we will be introducing a revised timetable designed to improve punctuality on morning journeys as well as increasing capacity with bigger single deck buses. 
You said our timekeeping wasn't very good in the morning
We took over from Stagecoach with a similar morning timetable. Most journeys have been delayed getting over the A1 with buses getting stuck in queuing traffic in Sandy or on the A603. Our new morning timetable allows more time for buses to get in to Bedford, with most journeys retimed to start earlier. 
You said that our buses were too small at busy times
We predominantly operate a network of smaller buses, which are better suited to the rural nature of our network. We have taken delivery of two brand new British Built buses, with 40 seats and room for up to 75 customers. These two vehicles will be allocated to the 72 and 73 services to increase capacity and provide reliable and environmentally friendly travel for all.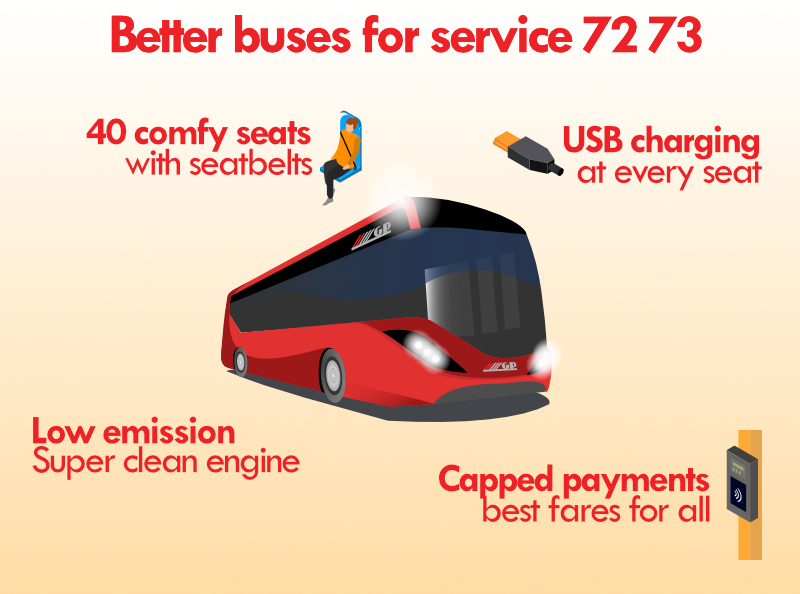 You said that buses were becoming delayed throughout the day
There is never a perfect time to start a new bus route but we have seen higher than expected delays. Roadworks in Sandy outside Tesco are delaying buses and commuters. Roadworks on London Road slowed us down in the morning and evening. Additionally, poor weather conditions have meant that buses were delayed crossing the A1. We've made changes to the way we schedule our buses to allow them more time to recover when they become delayed. We've started journeys with fresh buses to help get them back on time and continue to do so where possible. 
We've also seen delays as people become accustomed to our fares and tickets, which are very different to Stagecoach's products. These delays are subsiding and our punctuality continues to improve. We're not complacent and believe our new timetable will significantly improve our timekeeping
You said that our fares were too high
Stagecoach East cited poor ticket sales and revenue as a reason for the withdrawal of their Biggleswade services. Biggleswade is a tough market for bus services- in the past five years Centrebus have withdrawn from the area as have Stagecoach East. Our fares reflect the true costs of providing bus services in rural communities and allow us to recruit and retain staff. Our fares fund investment in our business- we've invested in 14 brand new buses since 2015, the most of any operator in Bedford. The cheapest way to travel is to use our tap on tap off payment system, which caps a week's travel at £26.40. 
You said that we weren't very reliable
The bus industry similar to many other sectors has been affected by a lack staff- specifically bus drivers. We've made great inroads to improving our reliability in the past month with additional drivers joining our business. Both the 72 and 73 bus routes have been badly affected by roadworks in Sandy and Bedford on London Road- causing long delays at busy times. We're working with our partners within the local authorities to see what we can do to mitigate these delays. Our reliability continues to improve, but from time to time things can go wrong. Where they do, we have a delay repay compensation scheme in place and a thorough investigation procedure. We want to get it right for every trip. 
You said that you wanted more information about our services
Our smartphone app is free to download and has bus tickets, live tracking, push notifications and full service information. We've recruited additional Customer Service Assistants to help with phone calls in the day and our popular whatsapp is available too.
We hope this has given you reasurance that we're taking the necessary steps to improve your 72 and 73 services. We welcome your feedback and full contact information can be found on our website.