Service changes from 29th August 2022 03/08/2022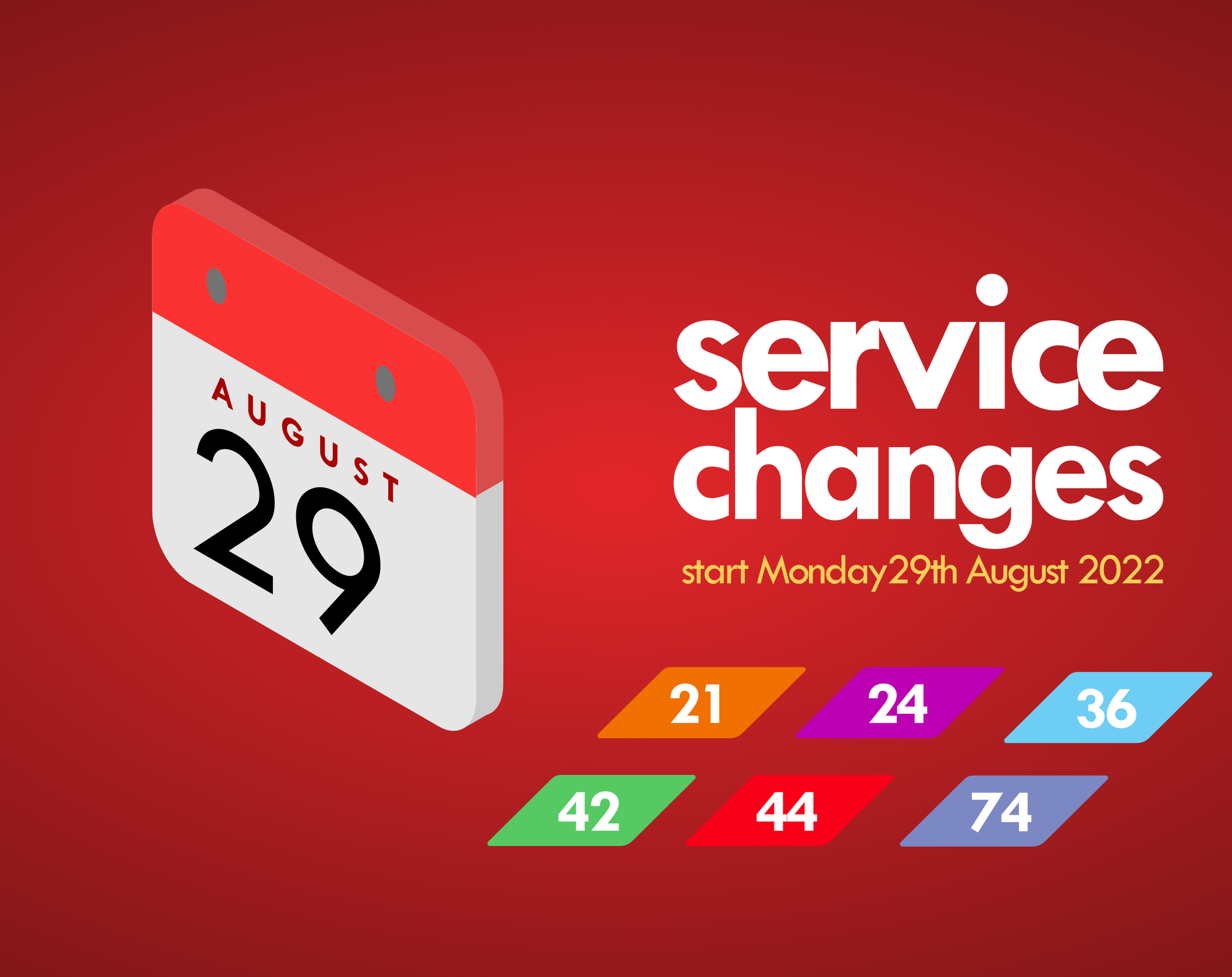 We're making a number of changes to our services from 29th August 2022. The changes have been designed to help us run more reliably. Like many public transport operators we have had to adapt to lower numbers of people travelling, high operating costs and shortages of PCV licence holders. Our changes will stabilise our network, reducing the likelihood of short notice cancellations and improve overall journeys for customers. We have consulted with our local authorities regarding the changes and believe they will continue to offer high levels of service across Bedfordshire.
Service 21
The 07:20 journey from Abbeyfields to Bedford Bus Station will now run 10 minutes earlier throughout. This will allow us to run more reliably and prevent us from being delayed by traffic on London Road.
Service 24
Service 24 will be withdrawn from the 29th August apart from school journeys to Lincroft Academy. Our data shows that very few customers were travelling on service 24 from Great Denham and most customers were travelling from the Kempston Road where there are a number of frequent services.
Customers in Great Denham can still travel to Bedford using Stagecoach service 8 via Queens Park. Customers in Kempston can use services 1, C1, 53 and 68. For further information please see traveline.
Service 36C
Buses will operate from the High Street on non-market days and West Street on market days following customer requests and discussions with Central Bedfordshire Council.
Service 42
We have retimed our first 42 journey from Flitwick from 5.45 to 05.10, providing an earlier journey and a bus for residents in Houghton Conquest. Additional weekday journeys from Flitwick to Bedford have been introduced at 07:10 and 06:20. A new 16:00 journey from Bedford to Flitwick has been introduced to increase capacity for students at Bedford College.
Service 44
Buses will operate between Maulden and Bedford only for most of the day, with peak time journeys extending from Flitwick via Ampthill. Our data shows very few customers travelling between Maulden and Flitwick and the cost to provide these journeys has increased substantially. Buses will operate more reliably between Maulden and Bedford with additional afternoon journeys to Bedford and later return journeys too. 
Customers wishing to travel between Maulden and Flitwick can use Flittabus services 3,7, 6A and 8.
Buses will operate to a revised timetable to better coordinate with Stagecoach service 81 following customer requests. Most buses will leave Bedford at 05 past the hour and from 48 past the hour at Clophill.
Service 74
A revised timetable will be introduced with most buses running as through journeys to Hitchin following customer requests. Buses will continue to serve Stratton Upper School in the morning and afternoon.