New 72 and 73 services 05/10/2022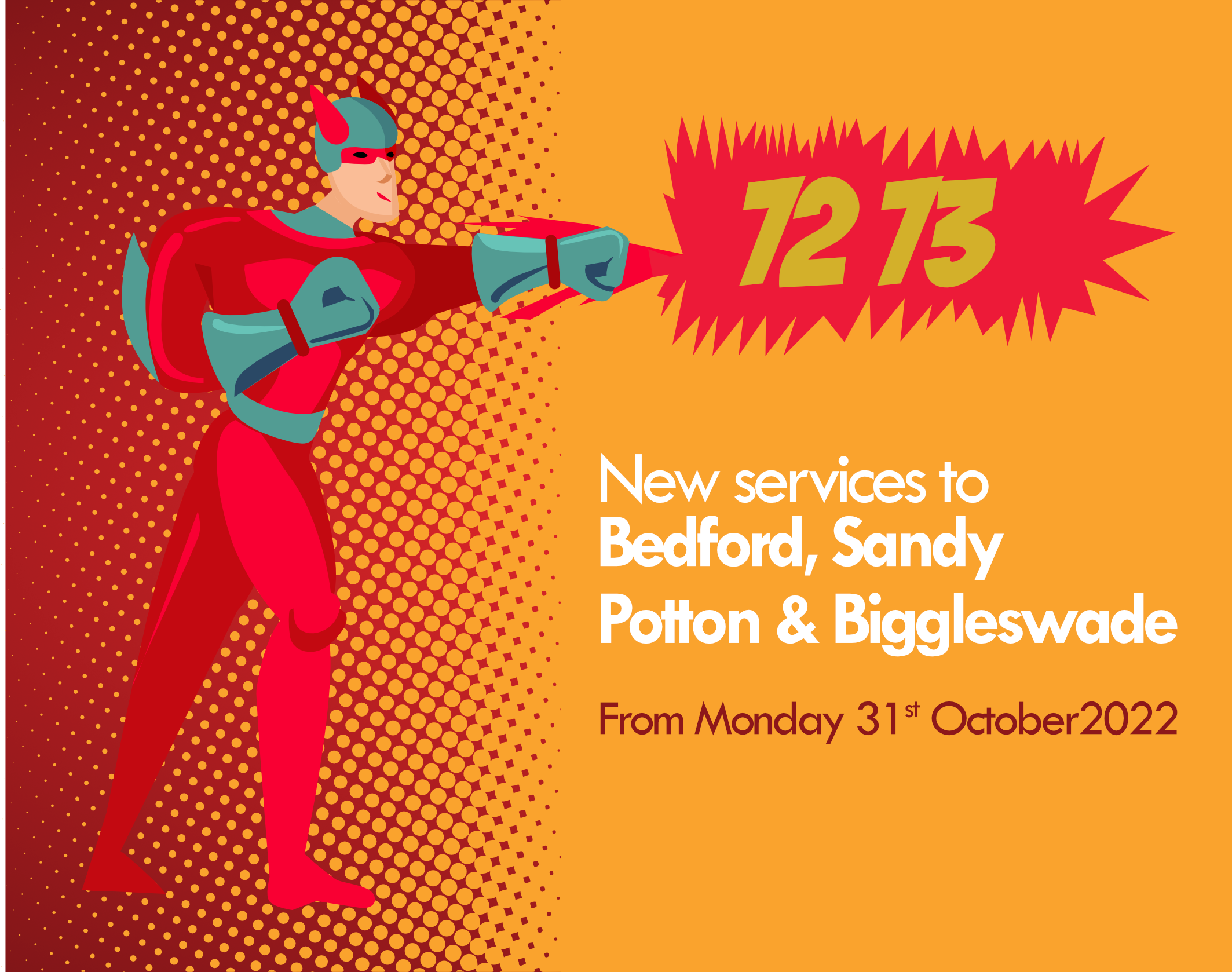 Grant Palmer Limited, Bedfordshire's family owned bus company since 1999 are launching two new bus services to replace vital bus routes withdrawn by Stagecoach East. From Monday 31st October, services 72 and 73 will operate to revised timetables with buses operating six days a week, every hour between Bedford and Sandy with further extensions to Potton and Biggleswade.
The new services will benefit from capped contactless payments- with weekly tickets costing no more than £26.40. A range of tickets for families, students and groups provides excellent value. Bus tickets can be purchased onboard or in advance from the Grant Palmer smartphone app. Customers can track their bus, receive push notifications and find full service information through the free app.
Two high specification buses will operate on the new route with convenient USB charging onboard and high back seating. Low emission engines will improve air quality for all across the county.
A full printed guide for the service will be available in advance of the service starting from bus stations, local libraries and travel interchanges.
Thomas Manship, Commercial Manager for Grant Palmer adds "We're pleased to step in to provide services 72 and 73 from 31st October 2022. With our great value fares, high quality buses and locally focussed customer service, there's never been a better time to leave the car at home and get back on board these vital bus services. We can't wait to welcome new customers to our services"  
Frequently Asked Questions: 
What time will the new 72 and 73 services run?
The services will operate up to every hour between Bedford and Sandy with two hourly extensions to Biggleswade and Sandy. Buses will operate to broadly the same times from Bedford Bus Station.
Will the route stay the same?
Yes, buses will take the same route as the 72 and 73 services operated by Stagecoach. You can see a printable map here.
Do you take card payment?
Yes, we accept contactless payment. The cheapest way to travel for regular customers is to use our tap on tap off payment system. Simply put your card to the machine, wait for the beep, then when you get the bus put your card to the reader mounted on the last handpole. Customers travelling between Bedford and Sandy will only pay £26.40 for a week's travel.
Can I use my bus pass on the new services?
Yes concessionary bus passes are accepted on all of our services.
Do you offer children's fares?
Yes, children aged 4 and under travel for free. Young people aged 5 to 16 are entitled to a discount on standard fares. Remember if you or your child looks older than 16 you may be asked to show ID such as a college ID card, provisional licence or student card.
Do you offer discounts for students?
Students can benefit from our discounted monthly ticket- available for just £75, it gives a month's unlimited bus travel. Ideal for students travelling to Bedford. There are no concessions available on standard on bus fares.
Can I track my bus?
Yes, if you download the free Grant Palmer app you can see where your bus is in live time. Our push notifications let you know of any planned diversions or changes. Make sure you turn them on in your notifications.
Can I buy a ticket on my phone?
Yes, a full range of tickets is available to buy through our website and app.
Can I get a paper timetable for the service?
Yes, unlike the previous operator we will be printing full colour guides for our services including the 72 and 73 routes. Copies will be available on our buses, at bus stations and local libraries too.
How much is my fare?
Use our fare calculator to work out the cost of single and return journeys.
The new timetable doesn't meet my needs, why is it only ever hour?
We have worked in partnership with Central Bedfordshire Council to take over operation of the 72 and 73 services at short notice. The service was previously operated by another operator at a considerable loss. The new timetable will be more financially viable, whilst continuing to offer a core service for customers in Sandy, Potton and Biggleswade. We have timed buses for students in Potton, Biggleswade and Sandy as well as workers and shoppers too. The new timetable allows us to launch the services sustainably whilst protecting the wider East Bedfordshire bus network.
I understand that you're short of drivers, why are you taking on a new service?
We have worked with Central Bedfordshire Council to redeploy resources from an existing service to undertake the 72 and 73 routes. Although there is a nationwide shortage of professional drivers, including PCV and HGV licence holders, we have made considerable investments to recruit new staff and retain our existing workforce.  Additionally we have opened our own Driver Training School, allowing us to attract non-licence holders and bring them to our company.
If you have a PCV licence and are interested in operating the 72 and 73 services or if you're looking for a new career with great benefits, local management and an hourly rate of £12.80 we would love to hear from you. Get in touch here.
I have a Stagecoach ticket, what should I do?
Unfortunately we are not able to honour any Stagecoach Megarider or Dayrider tickets. Please speak with Stagecoach for a refund of your existing ticket. The chart below shows the best ticket for many customers, but if you have a specific ticketing enquiry not shown below please contact info@grantpalmer.com
I travel between Bedford & Cople Turn- Swap from a Megarider to a Bedford Zone One Day or Week Ticket. Buy on bus or use the tap on tap off system for automatic caps
I travel between Bedford, Sandy, Potton or Biggleswade- Our network fares apply. Students can save with a discounted monthly ticket available here. 
I travel in a group- Swap from a Grouprider to Multi-buy Return. Up to four people for just £12. 
For further fares information please see here. 
I have a question which isn't listed, what should I do?
Use our handy FAQ tool here