Face coverings on board from Tuesday 30th November 2021 29/11/2021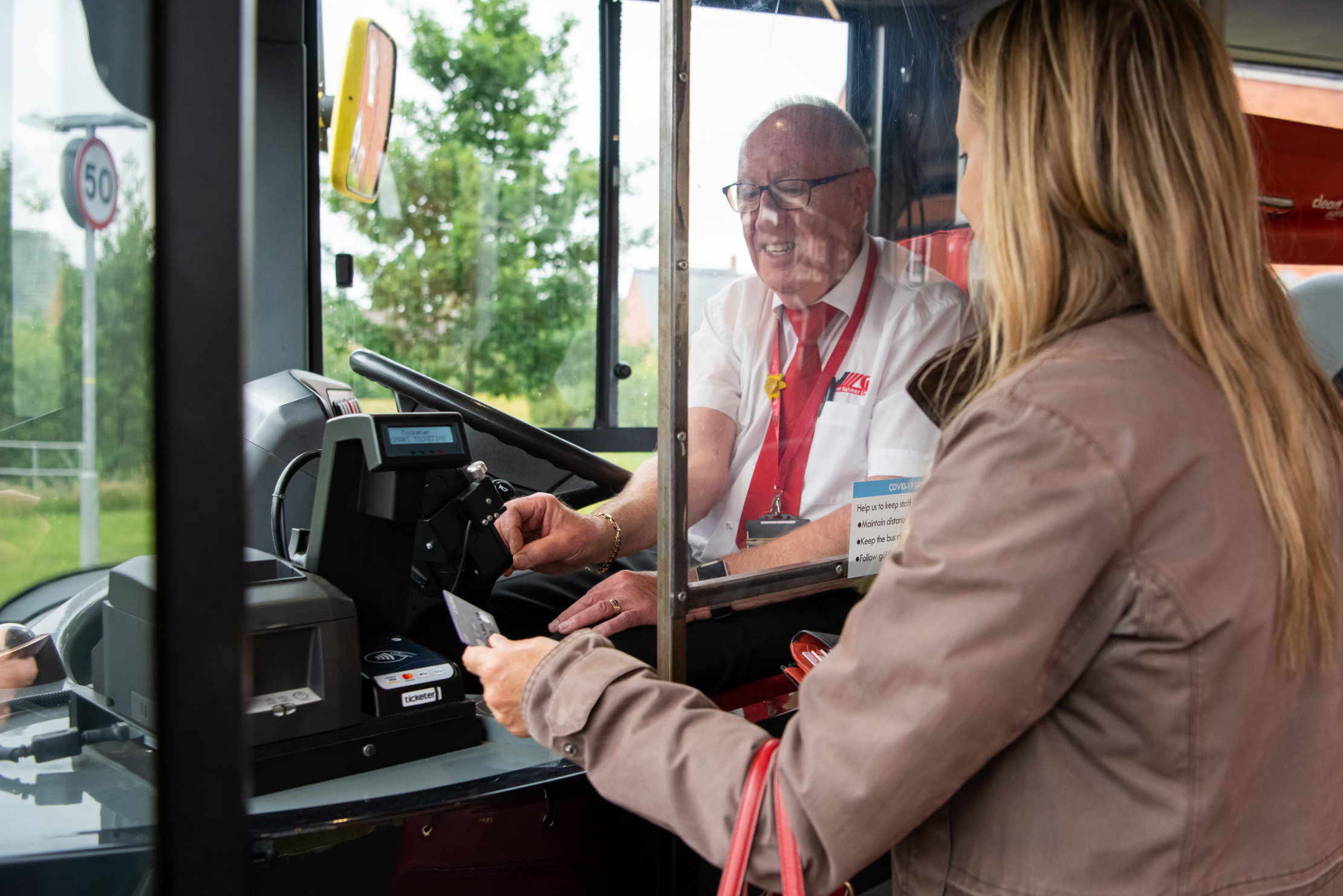 From Tuesday 30th November 2021 , customers will be required to wear a face covering on our buses. This is following government guidance, advised here. To support our customers, we have answered a few common questions below: 
Do I need to wear face coverings?
Yes, face coverings will be mandatory when travelling by bus in the UK from 15th June 2020 until further notice.

Do I need to wear face coverings when waiting at the bus stop?
It's not mandatory to wear face coverings when waiting outside at a bus stop, but we recommend that our customers put their face covering on and have your pass or fare ready before queuing to board the bus, to avoid delays. Please try to pay with exact fare where possible. Fares can be found for all of our services just click "Download Fares". For safety, it's recommended to always wash your hands or use hand sanitiser before putting your face covering on.

Do I need to wear face coverings at all times when on-board your bus?
Yes, it's mandatory to keep your face covering on from the moment you board the bus until the time when you leave the bus. Please take your face covering with you at the end of your journey and dispose of it safely. Please do not discard face masks on our buses. 

What if I'm unable to wear a face covering?
Customers with health conditions or breathing difficulties are exempt from wearing face coverings. Please be prepared to inform the driver that you're unable to wear face coverings for this reason, and you will be allowed to travel. To make sure that you're safe, please try to maintain a 2-meter distance from other passengers.

I cannot wear a face covering due to a disability or medical condition - what should I do when travelling?
We have created some "Journey Assistance Cards" which you can download and print, or show to drivers using your smartphone when travelling. Click here to download. 
Does my child need to wear face coverings?
Children under 11 years old are exempt from wearing face coverings.

What if I forgot my face covering?
Unfortunately, it's mandatory to wear face coverings when using public transport. This means that sadly our drivers won't be able to allow travel for those without face coverings. Remember- you don't need a mask, it can be a scarf snood, or home made mask 

What do you consider a face covering?
A face covering can be very simple, like a scarf or bandana that ties behind the head to give a snug fit. It just needs to cover your mouth and nose. You can make your own face covering by following the government guidance here. 

What if I need a drink while travelling?
If you need a drink while travelling, please do so quickly and be mindful of others. Please avoid eating on our buses. 

What about longer journeys, do I need to wear a face covering the whole time?
Yes, you are required to carry a face covering and use it throughout your entire journey on public transport.
However, we recognise that reasonable adjustments need to be factored in, which clearly includes practical considerations like being able to eat and drink on a long journey, especially for those with medical conditions.
We ask our customers to follow closely the government advice on using face coverings, which is to wash your hands or use hand sanitiser before putting a face covering on and after taking it off. Customers should avoid touching their eyes, nose, or mouth at all times and store used face coverings in a plastic bag until they have the opportunity to wash or dispose of them.

Will drivers be wearing face coverings?
When boarding the bus, you will notice a temporary perspex screen separating the driver from passengers. This means that our drivers are already protected. From 15th June, our drivers will be provided with face coverings, however they will be advised to wear these only when leaving their cab area in order to assist customers.

What should I do if someone is travelling without a face covering?
We hope that passengers will follow the rules on wearing a face covering on public transport. Police and transport staff will continue to reiterate government messaging and the police will ultimately be able to fine people as a last resort.Please also bear in mind that some passengers are exempt from the requirement to wear a face covering and the reasons for some exemptions may not be immediately obvious.