Capped contactless fares on service 21 14/09/2021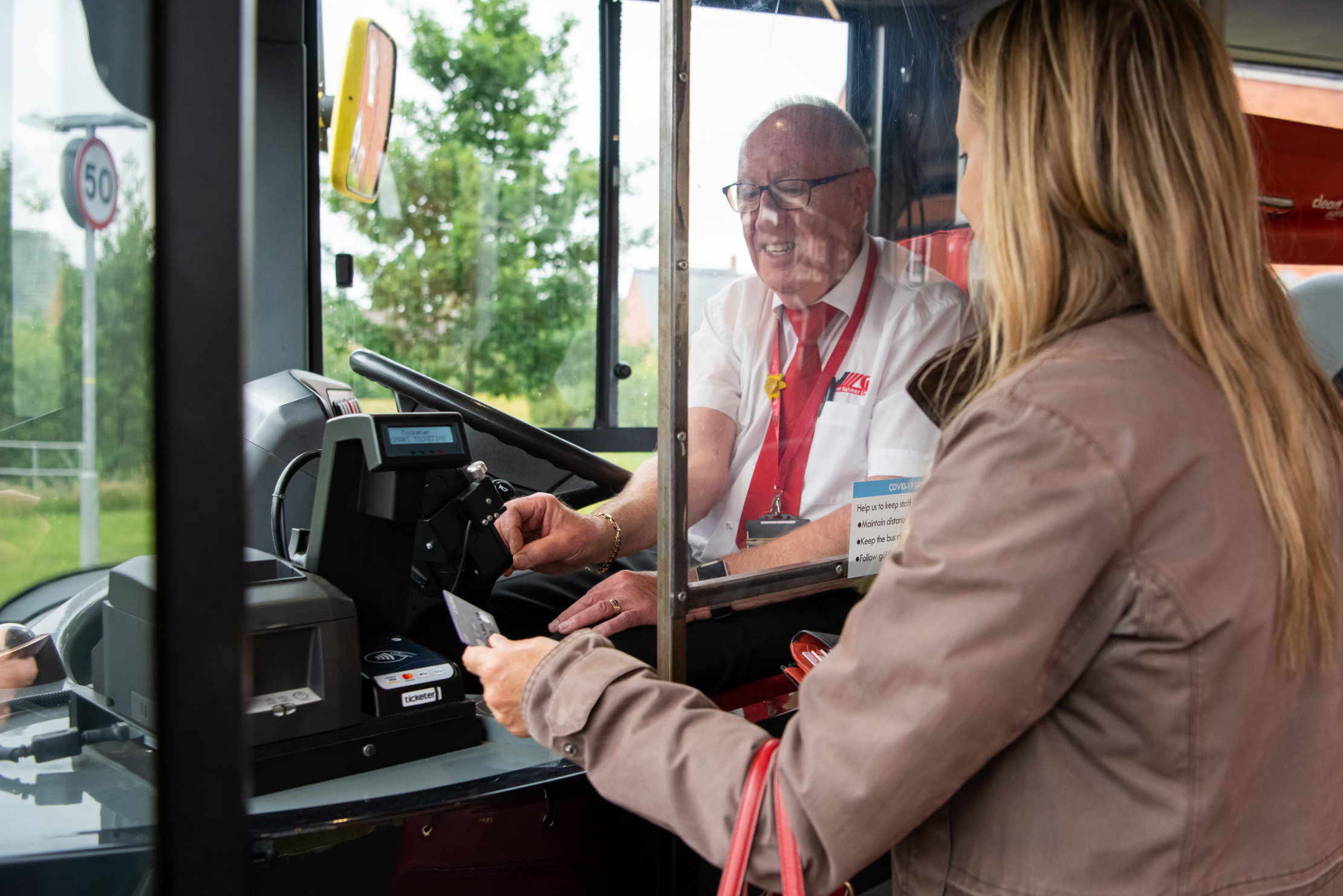 Grant Palmer, operator of service 21 between Woodlands Park, Bedford Town Centre and Abbeyfields are to introduce capped contactless payments from Monday 6th September 2021. Customers can travel as often as they like and never be charged more than the daily, weekly or monthly cap.

Customers just need to tap their bank card or phone to the ticket machine when boarding and they will automatically pay the best value fare. There is no need to buy a paper ticket or tell the driver your destination- helping to speed up buses and provide more reliable journeys.

Since introduction in 2020, contactless payment now accounts for nearly 50% of all transactions on service 21 with increasing numbers of customers choosing this secure, quick and convenient payment method.

Service 21 is operated in partnership with Bedford Borough Council and operates hourly six days a week. The service has seen continued growth since being operated by Grant Palmer Ltd. This latest investment follows on from the purchase of two brand new buses in 2020- with a third of the fleet now replaced with Euro-5 or higher low emission buses.
______________________________________________________________________________________________________________________
FAQs
How does it work?
Simply place your card against the contactless reader and you will be charged a standard fare of £2.00, the more you travel the more you save- if you travel twice it will cap the amount charged at £3.40
Do customers need to tap out?
No, there is no need to tap out- the system will calculate the best fare based on the initial transaction
How much does it cost?
The first trip made will be charged at £2.00, any trips there after are capped at the following rates:
One trip anywhere on service 21- £2.00
Two trips anywhere on service 21- £3.40
A day's worth of travel- £5.00
A week's travel- £12.00
A month's travel- £50.00
Can I still pay by cash?
We prefer contactless to keep everyone safe, but cash is still accepted. We cannot cap cash fares
Can I still pay by contactless for multi-buy and other standard products?
Yes, but you will need to ask the driver for them as you board
What cards do you accept?
We accept VISA and Mastercard. We do not accept AMEX
Can I use Apple Pay or Google Pay to get a Tap on fare?
Yes you can use Apple and Google Pay for tap and cap fares
How do I know what they've paid?
Fares will show on your bank statement on the day of travel- they are then processed 2-3 days after and settled with a final amount shown on the statement.
Can I cancel a journey?
Yes, but you must request it from the driver within 3 minutes of transaction
What do I do if they have an issue?
Email info@grantpalmer.com and we'll be happy to help
What happens if I travel on another service?
Customers travelling across more than one Bedford service should buy either a GPL Zone One or network ticket. Customers travelling on both Stagecoach and Grant Palmer services should continue to use the Cygnet ticket
Is this available on other services?
Not at present, but we have plans to bring tap/cap fares to all Bedford routes shortly. 
Are child/student fares available to be capped?
At present the trial is on adult fares only. Children and students should continue to purchase tickets from the driver